Know Us

An uninterrupted power supply is the demand of every sector. But the gap between such demand and supply could be minimized by using a comprehensive set of voltage stabilizers and power transformers. Bringing in an effective solutions for such problems, we, Voltsafe Engineering Corporation, have come forward with an assortment of well engineered stabilizers and transformers. In fact, we are are a prominent Manufacturer, Wholesaler, Trader, Retailer and Supplier with an unmatched experience in the domain of Stabilizers and Transformers.

With humble inception in the year 1975, the company was founded by Mr. V.P. Tyagi, a dynamic visionary, who took the organization from one stage to another with his broad perspectives and expert leadership.

We deal in sturdy and efficient voltage stabilizers and transformers, which are technologically advanced and unmatched in terms of performance delivered. Our gamut of stabilizers includes Servo Voltage Stabilizers, Oil Cooled Servo Stabilizers, Automatic Voltage Stabilizers, Air Cooled Servo Voltage Stabilizers, etc. We offer transformers like Oil Cooled Transformers, Dry Type Transformers, Cast Resin Type Transformers, L.T. Transformers and others. These are primarily exported to Nepal, Sri Lanka, Bangladesh, Bhutan and Burma. It is owing to our ability to make available the most apt solutions as per customers' needs that we have gained prestigious clients like Bata, Liberty, Kalson and Benetton. In addition, we are also engaged as a Service Provider who is rendering After Sales Support- Installation Training and Onsite Support.

Why Choose Us?

With a proven expertise of almost three decades, we have successfully established ourselves as a trusted source for innovative and efficient stabilizers and transformers. Our clients admire us for our ability to offer the best possible solutions within stipulated time. Some of the factors that have contributed to our success are as follows:


Cost efficient, high quality products
Strong distribution network
Team of skilled engineers
State-of-the-art facilities
Knack for innovation
Customer driven approach.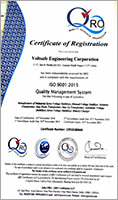 Read More